Home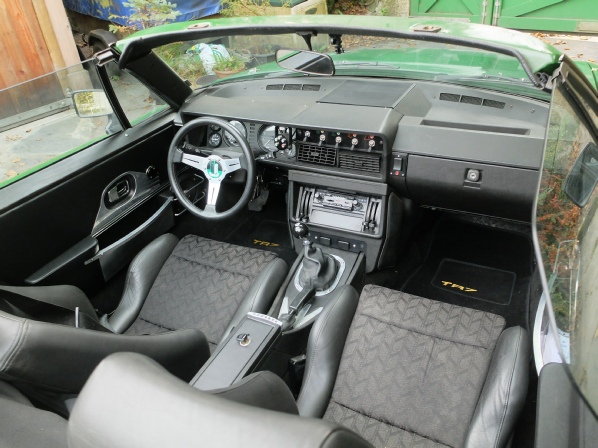 The original seats were past their best and generally not very comfortable. I had this pair of Recaro seats from the poor old Rover 820 Vitesse Sport which unfortunately blew its engine in a spectacular fashion.
The TR7 is quite wide inside and the seats fitted quite easily. I retained the original runners and welded brackets to take the new seats. They are a bit higher than the originals which is probably a good thing for a person of my age. Since its LHD, the passenger gets the extra seat adjustments!
The steering wheel is a Nardi and came with the car as did the eight-ball gear knob.
The central storage compartment got a new lid with a lock and the interior of the box got a light and a charging point.
Between the seats is an interior light I have made with an LED panel. The light comes on when you open the doors with the remote.
I've removed nearly all of the vinyl-covered hardboard panels in the car and replaced them with mostly vinyl-covered aluminium although the door cards are GRP.
I've made panels to hide the wiring under the dash and fitted an elasticated cargo-type net under the passenger dash.
I've filled in the space behind the seats.
I've removed the carpets and felt at floor level (although the transmission tunnel still has carpet) and fitted heavy rubber matting. This can just be lifted out in case of leaks (or a need to go fast!)
Things still to do include fitting sun visors.
Seats, interior light, interior trim