Home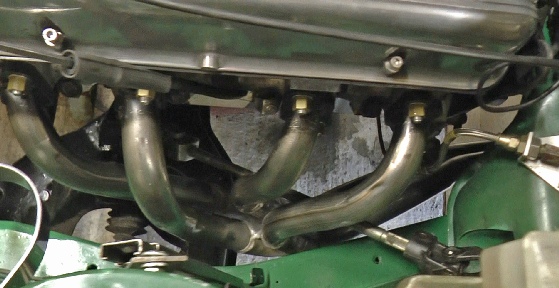 The exhaust headers from Rimmer Brothers were a bit of a pig to fit. On both sides there is minimal to no clearance on the bodywork channel members and shaft between the rack and the steering column definitely impinges on one of the pipes! To be fair to Rimmers, they don't claim the headers will fit a LHD car but the problem with the frame would be the same on a RHD car.
Anyway, it took a considerable amount of heating up to cherry red heat and clouting with hammers to just about get it to fit.
It also needed an extra adjustable bracket to pull the pipes closer to the engine and away from the bodywork. (See below.)
By the way studs rather than bolts help to get the headers in place, especially if they have been bent about a bit!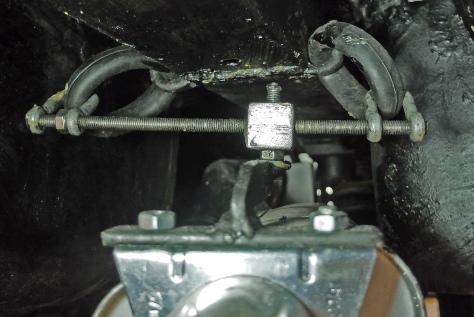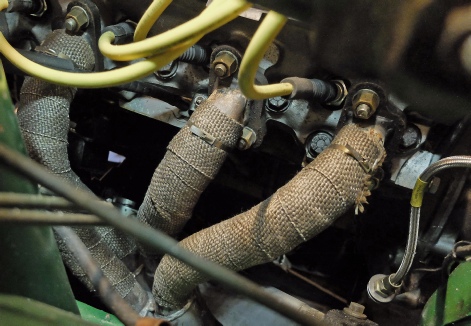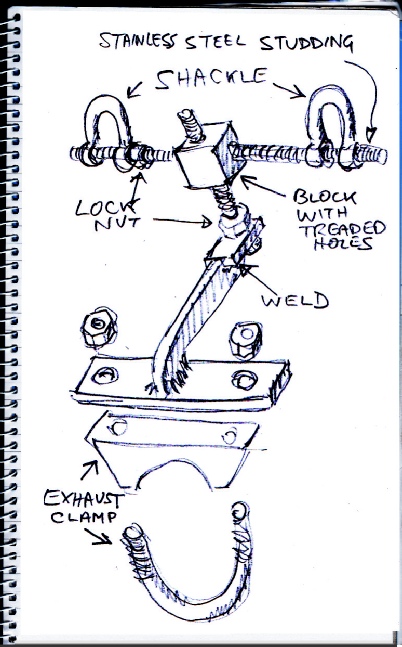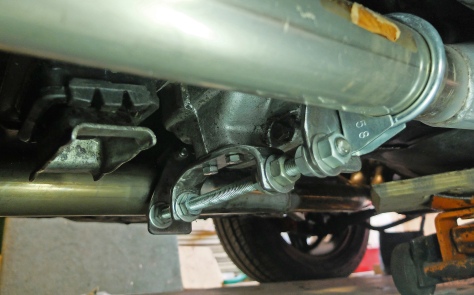 As mentioned, I fitted a clamp under the gearbox to pull the exhaust away from the bodywork where necessary. As you can see from the picture on the left, it comprises a couple of 4 mm plates bolted to the exhaust clamps with a piece of M10 studding passing through the plates and a bracket bolted to a handy couple of threaded holes in the bottom of the rear gearbox housing. The nuts can be adjusted to bring bending force to bear where it is required.
Below is the suspension for the rear of the exhaust courtesy of Heath Robinson! (My hero)
The hangers are not really in the best place so this device allows the exhaust to hang in the best position and have plenty of waggleability while still being properly supported. Only use one locknut so the studding can turn slightly as the exhaust vibrates.
I have wrapped the headers as shown above to reduce heat under the bonnet (always a good thing especially as the louvres on the bonnet are now purely decorative) and to keep the exhaust gasses hot which helps to expel them faster. Apparently stainless steel conducts heat better than cast iron and thus, without insulation, may radiate more heat. Opinion seems to be divided about this with some saying that the wrapping can cook the stainless steel but I have wrapped them anyway!