Home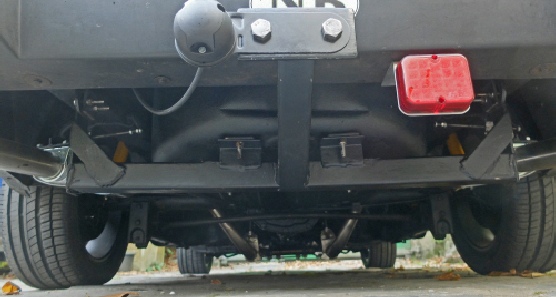 I thought I would like to buy (or make?) A little tear-drop caravan and tow it behind the TR7 on aroad trip to France. (The TR7 is LHD and so just the job!) Will it ever happen? Who knows.
Anyway, the tow bar started out as a temporary cross bar on which to put axle stands so the rear suspension could hang down. It bolted onto the two substantial towing eyes on the rear box sections.
I then thought why not convert it to a tow bar? So I welded on the other bits and bobs including four brackets to allow it to be also bolted to the boot floor.
The tow bar is fixed with eight 8 mm bolts and nyloc nuts. Reinforcing plates of about 50 x 50mm are fitted on the inside of the boot floor and the other side of the original towing eyes. I cut the part number 6 so that a lot of the welding was in shear rather than tension which I suspect in my rule of thumb way is stronger. This is a safety-critical bit of construction so if you make one please be sure it is strong enough to do the job. I'm no structural engineer but I am confident mine will be ok for a small trailer or miniature caravan.
I finished the job with a coat or two black Hammerite followed by a light coating of Waxoyl.
Below is a circuit which can be used to provide an audible warning that the trailer indicators are working. When the trailer indicators are drawing current, the diode drops enough voltage to turn on the transistor and sound the buzzer.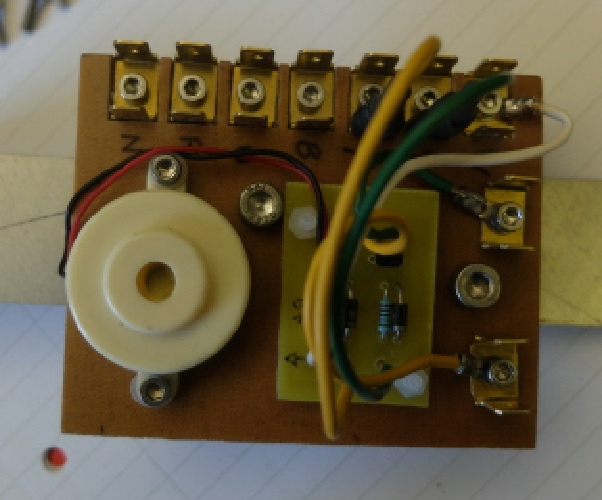 This is the circuit mounted on a Tufnol base. It is in fact two pieces, the top has cutouts to take the spade terminals and discourage them from turning and shorting.
Apart from what it does, this construction has old-school tech that I really love. For example, Tufnol, (a superior version of Paxolin) the sort of stuff you find in old radio sets. I also like 1/4" spade terminals although their use doesn't make for compactness and miniaturisation. Also I love stainless socket cap screws and use them wherever possible… All sounds a bit fetishistic.